At Sports Chaplaincy Australia, we believe in the power of playing the 'long game'. To inspire you, we want to share with you some stories of how far we've already come.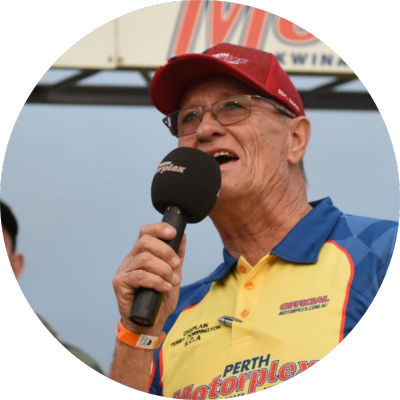 Meet Terry Dorrington – Perth Motorplex Chaplain
Name: Terry Dorrington
What sport do you serve in? Motor Racing
How long have you been a chaplain: 28 seasons
What level of training do you have? Fully trained + 28 years of experience!
How many hours a week are you a chaplain? Depends on events and circumstances
What do you do when not a chaplain? I am a full time chaplain which means I'm always on call!
How many people/teams are you in contact with? I'm the chaplain for the Perth Motorplex – which caters for many different types of motor racing. So there would be around 100,000 people!
Why did you decide to train to become a chaplain?
I was a plumber first, then spent nine years as a policeman which was pretty confronting. It was at this time that I decided to become a Christian. I went to Bible College, worked for three years as a minister, and was then asked to become a Chaplain. I started out at Claremont Speedway and then began working with the Perth Motorplex in 2000. Today I essentially work full-time undertaking my duties both at the track and within the community.
What seasons have you been present for in your community? Is there a story of particular significance?
Like most chaplains, I am a volunteer. It is a seven days a week job, but it's one I love to do. During the week I spend a lot of time visiting people, following up on things that have come up on the weekend. I also officiate at weddings and funerals. To have people invite you into their homes is something that is very special and shows a lot of trust. At the end of the day I am here for the people. In drag racing we have every type of person and I respect them and believe they respect what I do. I genuinely believe that talking to people and helping anybody is what being a Christian is all about. It is not about looking at the outside of a person but looking at the heart.
There have been difficult times during my career as a chaplain. The hardest one was perhaps the death of eight year old Anita Board – a junior drag racer. It was absolutely heartbreaking for all involved. Amidst the sadness it was a privilege to support Anita's family, who I am now proud to call good friends.
Finish this sentence: "To me, playing the long game means…serving the Lord."